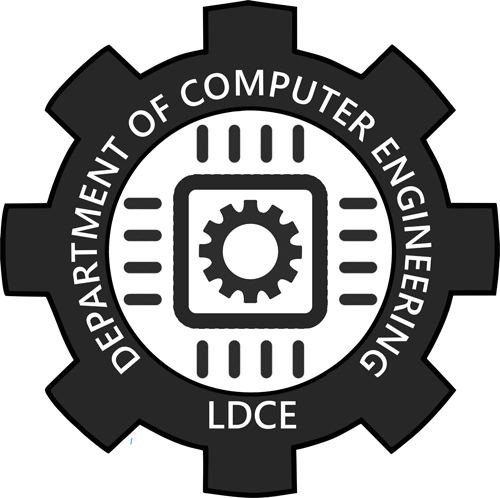 Computer engineering is the fastest developing discipline in the world. It integrates several fields of electrical engineering and computer science required to develop computer hardware and software. Computer engineers embed computers in other machines and systems, build networks to transfer data and develop ways to make computers, faster, smaller and more capable. The major technical areas of Computer Engineering are : Cybersecurity, Networking, Database Handling, Artificial Intelligence, Design Automation, Computer software, Embedded Systems.
Computer Engineers venture into various fields such as web-development, Computer Support Specialist, Computer Systems Analyst ,Computer Systems Designer, Database Administrator, Network Administrator and much more. Future opportunities in this field are beyond boundaries. Computer Engineering Department in L.D.C.E covers a wide spectrum of topics in data communication, computer networking, operating systems, microprocessor programming and applications, parallel processing, compiler design, system programming, software engineering, simulation and modeling, distributed systems, graphics and image processing, various packages and softwares like ORACLE, JAVA, VC++ etc.
Under Graduate/Post Graduate Courses
| Name of Course | Type | Period (Years) | Intake | Year of Starting |
| --- | --- | --- | --- | --- |
| Computer Engineering | UG | 4 | 120 | 1983 |
| Computer Science & Technology | PG | 2 | 18 | 2009 |
| Master of Computer Application | PG | 3 | 30 | 1987 |
Vision
To achieve academic excellence in Computer Engineering by providing value based education.
Mission
To produce graduates according to the needs of industry, government, society and scientific community.
To develop partnership with industries, research and development organizations and government sectors for continuous improvement of faculties and students.
To motivate students for participating in reputed conferences, workshops, seminars and technical events to make them technocrats and entrepreneurs.
To enhance the ability of students to address the real life issues by applying technical expertise, human values and professional ethics.
To inculcate habit of using free and open source software, latest technology and soft skills so that they become competent professionals.
To encourage faculty members to upgrade their skills and qualification through training and higher studies at reputed universities.
Facilities
Advance Project Lab
Operating System Lab
Digital Logic Lab
Programming Language Lab
Placements