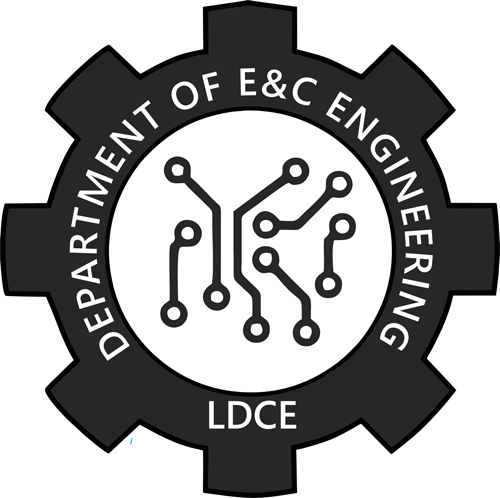 One of the broadest engineering fields, Electronics and Communication involves the transmission of information across channels like coax cable or optical fiber. It also deals with designing equipments such as routers, switches, fiber optics and electronic switching systems. In a nutshell, this branch of engineering deals with electronic devices and software interfaces.
With the evolution of the computer age, E.C engineering has crept into every sphere of human life, thus increasing its scope manifolds. Electronics is now a part of our everyday life, from your pocket FM radio to televisions, computers, mobile phones and even the high-end satellites that are helping you read this snippet now. Electronics and Communication Department in L.D.C.E offers special subjects such as Wireless Communication, VLSI, Embedded Systems, and Satellite Communication. While building a solid foundation of the fundamentals, the students are also exposed to emerging trends in the industry and are molded to be quality professionals of the future.
Under Graduate/Post Graduate Courses
| Name of Course | Type | Period (Years) | Intake | Year of Starting |
| --- | --- | --- | --- | --- |
| Electronics & Communication Engineering | UG | 4 | 120 | 1972 |
| Communication Systems | PG | 2 | 36 | 2001 |
| Electronics & Communication Engineering | PDDC | 4 | 120 | 1984 |
Vision
The Electronics and communication Engineering department is committed to set a standard in engineering education with an active teaching-learning environment and research orientation for attaining academic excellence to produce graduates with greater employ-ability and as competent professionals to befit the diverse ever-changing technological arena.
Mission
1. Endorse industry and research oriented curriculum with multidisciplinary approach imbibing the ethics of professional engineers augmented with multifaceted competencies among the faculties and students to face the global challenges 2. Establish the state of the art laboratories with centres of excellence imparting quality training for promoting creativity, innovation for engineering solutions and product development with profound societal impact. 3. Foster research culture and strengthen networking with institutions, industries, research centre and alumni globally for seamless academic and technology transfer.
PEOs
PEO1: To create the skills to develop entrepreneurship capabilities in various areas of Electronics & Communication Engineering with enhanced technological productivity, cost effectiveness. PEO2: To identify, comprehend and solve problems for the real world. To develop analysis and research capabilities for practical application in society. PEO3: To inculcate moral and ethical values to be responsible citizens.
Facilities
Bhaskaracharya Hall
Analog Electronics Lab
Electronics Workshop Lab
Electronics measurement & Instrument Lab
Power Electronics Lab
Telecom and Switching Network Lab
Analog Communication Lab
Digital Electronics Lab
Optical Communication Lab
Antenna and Microwave Lab
VLSI & Embedded System Lab
Digital Signal Processing Lab
Mobile & Wireless Communication Lab
Placements